Alley Station has the perfect venue for any event!
Whether you're celebrating the perfect romance, conducting business in style or hosting the
social event of the season, Alley Station has the perfect space for you.

testimonials
Colley Wedding

03.10.2013

I just wanted to also tell you how much she loved it. It was her dream come true and the Ally is what was to topper on the cake. Thanks so much for everything.

L. Hemphill

17.09.2014

Thank you so much for all you did for the Arthritis Foundation for our Arthritis Walk.  We absolutely loved the venue and the great customer service that you gave us during the event.

D. Wingo

17.09.2014

Wonderful place. Thanks for all y'all did for Annie & Jarrid wedding reception.

A. Howell

18.09.2014

We had a blast at our event.  Alley Station was the perfect amount of space for our guests for both an indoor and outdoor event.  The rustic yet elegant décor already there made set up incredibly easy and gave a great backdrop for pictures.  With the location being in the heart of the entertainment district downtown, attendees are incised to be there.  I could not have imagined a more perfect venue for my event, it turned out so beautifully!  I recommend this gorgeous facility to everyone!

L. Reyes

18.09.2014

I just wanted to say a big thank you for helping us with our wedding weekend.  I am a little biased, but I think that it was the funnest and most perfect wedding weekend.  The ball room worked out perfectly, and I am probably the only bride who was ever glad that it rained on her wedding day.

S. England

22.09.2014

We are so happy that we chose to have our September wedding at the Warehouse at Alley Station. The downtown location is perfect for in-town and out-of-town guests alike, and the actual building itself is truly stunning. From the exposed brick walls to the hardwood floors to the giant propeller fan hanging from the ceiling- our wedding guests could not stop talking about all of the incredible design details. I would highly recommend the Warehouse to anyone looking for a beautiful and unique venue overflowing with charm and character.

R. Coleman

22.09.2014

My husband and I got married at Alley Station in April – we used the rooftop terrace for our ceremony and the ballroom for the reception.  Not only were both spaces incredibly beautiful, but I also had so many guests (especially the out-of-towners) comment to me how convenient it was to have both events in the same location.  We also enjoyed having the flexibility of bringing in our own caterers and bartenders.  Overall, I can't imagine a more perfect spot to have gotten married!

Dr. Mackey

23.09.2014

We have used Partners Realty and the Alley Station Ballroom going on 3 years now for our annual events. I know that I can trust Jenny and the staff with all of our needs. They are always so organized, professional and patient, which speaks volume when dealing with 100 women screaming bingo! I look forward to hosting many more events and continuing our relationship with Partners Realty.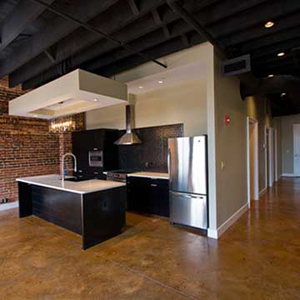 Now you can live in the Perfect Place.
Flats at Alley Station offer all the best in downtown living. Incredible amenities like a private workout room and a gorgeous Rooftop Terrace combine with the ease and convenience of a work/play lifestyle to give residents all they need to truly celebrate life. And all the great dining, shopping and social hubs of the newly renovated Alley are right downstairs. All the convenience, none of the hassle and every bit of the style! See more