The Ballroom
The Ballroom allows for maximum style. Modern and vintage coexisting in perfect harmony. Fabulous at every turn.
You'll enjoy plenty of room to dance, eat, meet, greet…everything you need for a perfect event. Dress it up or down. Go casual or go all out. This unique venue is the chic choice for everything from elegant galas to casual dinner parties.
Amenities:
Incredible amenities to give your event everything guests need to truly celebrate life:

Built-in bar in Ballroom
Hardwood floors in Ballroom
2 banquets for additional or VIP seating in Ballroom
Exposed brick & other modern touches
25 tables and 200 chairs included with original rental price
Huge catering kitchen
Opportunity to bring in your own Caterer
Perfect location at the restored Alley in downtown Montgomery
Very chic décor
Ballroom (holds up to 350)
Great downtown location
Friendly, knowledgeable staff
Positioned right on the Alley
All alcohol (including beer and wine) must be purchased from and served by B & B Bartending.
Floorplan: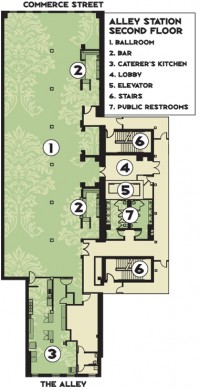 (click to enlarge)
Photos: