The Rooftop Terrace
The Rooftop at Alley Station lets you literally paint the town. Stunning sky and city views. Unending alfresco charm. High on life!
This open-air space brings a modern feel to any meeting or celebration. Include a tent for shade, shelter or added charm. And the staging for bands or other presentations provides the perfect complement to the outdoor ambience.
Amenities:
Incredible amenities to give your event everything guests need to truly celebrate life:

Built-in stage on Rooftop Terrace
Tent available for Rooftop Terrace
25 tables and 200 chairs included with original rental price
Exposed brick & other modern touches
Opportunity to bring in your own Caterer
Perfect location at the restored Alley in downtown Montgomery
Tent available
Great downtown location
Friendly, knowledgeable staff
Positioned right on the Alley
Choose your own caterer
Freedom in room arrangement
All alcohol (including beer and wine) must be purchased from and served by B & B Bartending.
Floorplan: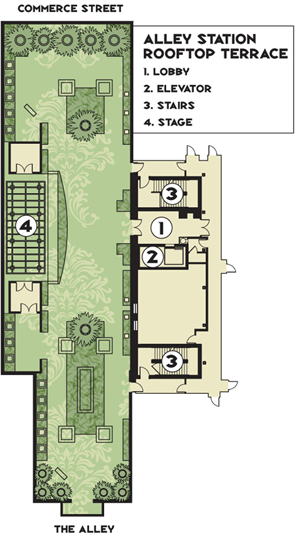 (click to enlarge)
Photos: