The Warehouse
The Warehouse puts the chic in shabby-chic. Rustic, elegant and unassuming. Dress it up or dress it down. Dress it delightful.
The Warehouse at Alley Station offers an intimate option for small gatherings that are big on style. Exposed brick and contemporary accessories make the venue as unforgettable as the event itself.
Amenities:
Incredible amenities to give your event everything guests need to truly celebrate life:

Exposed brick
300 Chairs
38 5ft round tables
8 6ft rectangular stables
3 projectors and screens *
Microphone*
IPOD, cable TV and computer hook-up*
Opportunity to bring in your own Caterer
Full sound system -* Not included in original Warehouse package. AV system and technician is available for a fee.
Perfect location at the restored Alley
Great downtown location
Friendly, knowledgeable staff
Hardwood Floors
Freedom in room arrangement
All alcohol (including beer and wine) must be purchased from and served by B & B Bartending.
*(Not included in original Warehouse package. Can be added to package for a fee.)
Floorplan: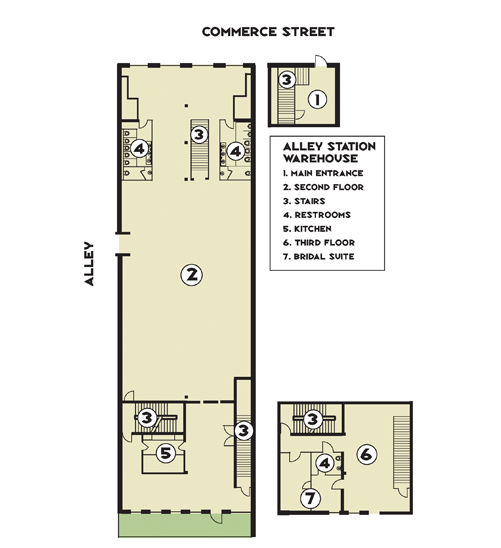 (click to enlarge)
Warehouse Photos:
The Warehouse offers the space to make any event come to life.
Event Photos: